Thank You and Reviews
We work hard on our presentationsat Electricity Safety & Conservation. Our presenters extensive experience in the electrical field, and have been trained to give consistent, high quality presentations to the elementary schools we visit.


"Students from K-4 were engaged and learned a lot from the presentation. Overall it encompassed many key safety concepts and was very well done. Wonderful demonstrations and visuals to reinforce key messages and concepts. They love the scientific demonstrations to show what can happen if they don't follow the safety rules"
Laura Hill
John T. Tuck Public School
"The camera was a great addition & helped everyone stay involved. The more participation the better. Great job giving enough detail so kids were learning but not too much to confuse kids."
Fitzsimmons
John T. Tuck Public School
"Great personality, great crowd control, very informative. You had the audience mesmerized! I'm sure you've inspired some to become electricians!"
Ellie Stefaniuk
A. K. Wigg Public School
"Danny was very well spoken. His presentation had great flow and he kept the attention of his audience the entire time. I really liked the camera. My class who was sitting at the back could see clearly."
Rob Hildebrandt
A. K. Wigg Public School
"You came to my school when I was a little girl! What a great surprise today as a teacher now."
Jenn Kearley
HHCS
"Great presentation, spoke clearly, good volume, very informative, great to have students repeat the info. I liked the fact that it was interactive and you asked for volunteers."
Helen Luis
St. Peter CES
"The students were very engaged. Lots of great examples. I learned a lot too! It was very informative and age appropriate. The children loved joining hands to complete the electrical current"
Jenna Pennie
Hewson Public School
"Did a great job changing some of the terminology into kid friendly language and gave practical examples for staff and students. Fantastic job getting everyone's attention (clap, clap) and refocusing the group's attention. It was very engaging. Great job providing a choice of 2 answers for students to engage in productively."
St. Andre Bessette CES
"Love the humour! I even learned something new. It was great! Presenter was engaging and involved students a lot"
A. Droch
Holy Cross School
"Very patient with us, knows his content very well, clear speaking, good sense of humour, very informative."
Suzanne Charette
St. Hubert School
"Presenter was EXCELLENT, had great energy for young audiences. The students were most enthusiastic about the hands-on experiments using volunteers from the audience."
Heather Tanner
Vincent Massey Public School
"The presenter was very engaging – he was informative, interesting and funny! Well done!"
Yvette Lobl
Forest Run PS
"Lots of safety tips. Great "science" information and link to curriculum. Lots of demonstrations to keep them interested"
Brenda Jones
Light of Christ CES
"Student friendly, great interactions with students, great hands on activities for students."
S. Etwaroo
St. Andre Bessette CES
"Great Presentation! Thank you! Great humour! Great Voice! Great pace! Great visuals!"
Miss. Kiss
St. Andre Bessette
"He kept the student's engaged in the presentation and was entertaining"
Caroline Desormiers
Holy Cross School
"Great visuals & great repetition of the info – kept it moving & kids remained interested. They enjoyed the electrical shock demonstrations and the pickle"
Major Ballachey PS
"He was very entertaining and did a great job getting and keeping their attention. It was well organized and he was very knowledgable"
Highview PS
"Very interactive and engaging throughout, used a lot of applicable examples they could relate to, good sense of humour, answered all questions well."
Sara Lavigne Malone
Ecole Guelph Lake
"Great Presentation! Fernand is entertaining, engaging and presents the info with enthusiasm. [What were the students most enthusiastic about?] The demonstrations, experiments and when they got to volunteer."
Rosie Martin
Guelph Lake Public School
"Very funny and engaging! Jokes kept the younger kids wanting to pay attention. They loved volunteering for the experiments!"
Erin Peskett
St. Gabriel Lalement
"The camera displaying on the screen was great (so kids could see). It was a great presentation – kids were very engaged. The pickle was a big hit!"
L. Szabo
St. Martin
"An eye opener for me. Thanks for all the useful information. Displays were great and very effective! Thank you so much for a fantastic presentation. Entertaining and informative until the last minute!"
Emily Gambalo
St. Martin Catholic
"Fern is excellent with the children – he keeps them engaged the entire time."
Vanessa
Holy Name School
"Love the humour you added, very interactive – called up students from audience – fun! Thank you for a fantastic presentation."
Sherry Briggs
Holy Name Catholic
"Captivated my gr. 2's and 2's and held their interest."
M. McCarthy
St. Timothy
"First demonstration of the birds being electrocuted was a good visual for JK/SK's. Really liked how you got the students to stand up and move a bit. Great to keep them focused. The information and material were age appropriate for JK – grade 2. Enjoyed the real like demonstration of the electricity jumping. They also liked the pickle demonstrations."
St. Elizabeth Seton School
"Excellent content – students engaged, lots to look at – content was excellent – amazing – loved real life examples"
Kim Groulx
St. Elizabeth Seton School
"Fern was very knowledgeable. The kids loved him and his presentation was awesome."
Lucy Zoccoli
Holy Rosary Burlington
"Thank you Fern for a very important and engaging presentation. Fern is an excellent presenter. He engaged the students very well. He is very funny!"
C. Mullally
Holy Rosary School
"Les eleves ont bien participle pendant la presentation."
Madeleine Djeumo
St. Nicolas
"Loved how witty you are! So interactive and engaging!"
Carolyn Noble
Escarpment View Public School
"Size of audience was appropriate and presenter was engaging, humorous and interesting"
Tracy Pulak
Corsair Public School
"The Presentation was very engaging for all. Blair was very enthusiastic and great with the kids. Very informative presentation. The pickle was a huge hit, as well as the squirrel"
Michelle Solda
St. John Guelph
"I like the kid-friendly language and pace the presenter used."
Carla MacKintosh
St. John School Guelph
"Well organized and knowledgeable…students were attentive and interested…great review for adults too! (ex. how to exit a car safety when wires are down)
Amanda Duggan
Brant Hills Public School
"Presenter is knowledgeable, funny and interesting for all age groups. Excellent balance of info / visuals / interactive displays and volunteers."
Josephine DeProphetis
St. Mary Catholic (Niagara Falls)
"Fern made the electricity presentation very interesting. The presentation was interactive. Personally appreciate his humour"
M. Bambara
St. Mary School
"Outstanding speaker…students were totally engaged and well informed…The camera added was fantastic to see the model…Repetition of info helped students understand and remember…As an adult loved learning about the timer power bar…Real life examples really hit home for students."
Kristina Fulford
Quaker Road Public School
"Danny was very enthusiastic and clear. He did an excellent job at teaching the kids."
Sarah McCabe
Diamond Trail PS
"The demonstrations were excellent, interesting and engaging. They 'sparked' the kids attention."
Baillie Fry
Pineview PS
"I like how the presenter used clapping as an "attention getter" – the kids listened and responded – loud, strong voice – everyone could hear – also liked how he got the kids up to dance / move in the middle of the presentation"
Robin Rychel
Pineview PS
"Fern is very relatable and engaging. He delivers the information in an entertaining way."
Jill Mercer
St. Scholastica
"Incredibly engaging! Great power point with key points, not too wordy. Great demos. Very thorough and grade 4 appropriate and appealed to carious learning styles! Thank you for caring an putting together such a lovely presentation (that clearly took a lot of effort to prepare / set-up) to keep our students safe / inform our community"
Concetta Famiglietti
Our Lady of Fatima CES
"Excellent presentation – information presented in a clear, interesting manner"
Robin Arbour
St. Peter CES
"Good use of the jokes, you had a handle on the audience, able to keep them engaged throughout the whole presentation."
S. Kerr
George Brown College
"It was informative and staff and students were educated on a variety of safety issues. They [the students] liked the experiments and student engagement"
Janet Sully
Clifton PS
"Good visuals and demonstrations. Also, things were explained in an age-appropriate way."
Erin Epler
Clifton PS
"I like the interaction with the students throughout the presentation; great experiments that get students' attention on how electricity starts….Very well planned out. A lot of hands on interactive demonstrations and humour throughout the presentation. Great presentation that attracts the attention of Grade 7 and 8 students because it relates to many parts of the curriculum, specifically in science and geography; learning about pathway-options, safety, and alternative energy."
Antonella Romano
St. Jerome Catholic Elementary School
"Wonderful presentation. Very appealing to all age groups…..presentation covered a great deal of information…..Students were very excited to experiment with their friends to create electricity."
Canadian Martyrs CES
"Presenter makes content interactive and uses a good projected voice. Great visuals and use of student participation. Great crowd control. There was more information presented in various ways than I expected. Fabulous Job!"
Amy Brown
Terry Fox Elementary School
"Great interactions with the students. Excellent information about electricity presented at an excellent pace with excellent enthusiasm to engage students."
Kerry Lynn Parsons
R.F. Downey Public School
"A lot of enthusiasm – engages students! Good use of props and explains content in an interesting and student friendly way. Lots of active participation! He (the presenter) has a lot of enthusiasm and passion for what he does"
Tammy Whitney
St. Anthony Catholic School
"Blair has a great way of keeping the students attention. He taught them a lot of important safety information…..Very appropriate. The kids were engaged. They loved getting involved, the "safety first racoon", the demonstration electrical board."
DiSerio
St. Michael the Archangel Catholic School
"Very interesting presentation – he [the presenter] was very kind and very patient with our primary students"
Mrs. Susi
Corpus Christi Catholic School
"Excellent Presentation, very age appropriate. Great explanations and lots of props / examples students can relate to"
Patricia Ricci
Corpus Christi Catholic School
"Interactive…informative…fantastic rapport with students…great visuals and explanations made the presentation effective and very interesting…good sense of humour!!"
L. Fernandes
Venerable M.J. McGivney
"Very engaging! All students were so intrigued throughout the presentation….Grade 5 – perfectly aligns with the science unit – energy conservation"
Cindy Sajkcwicz
Ross Drive Public School
"Clear information…funny jokes…good pictures of real life examples…many examples / info to keep students safe…a good pace and logical order"
L. Chapman
Twenty Valley Public School
"Thank you to Blair Maye and Veridian Connections for the presentation!"
Ms. Wray and Mrs. Chung
St. Isaac Jogues Catholic School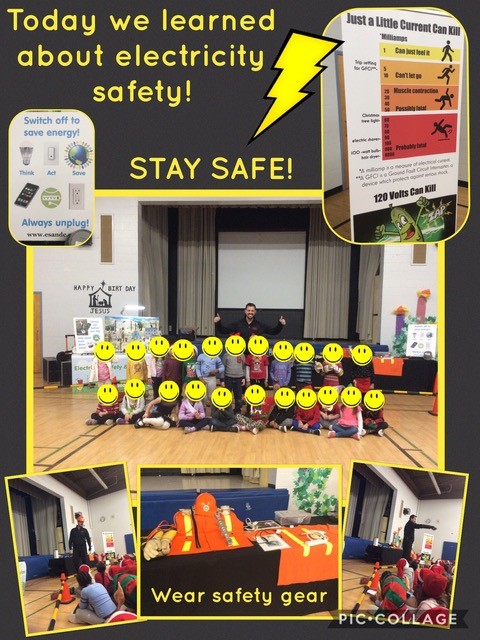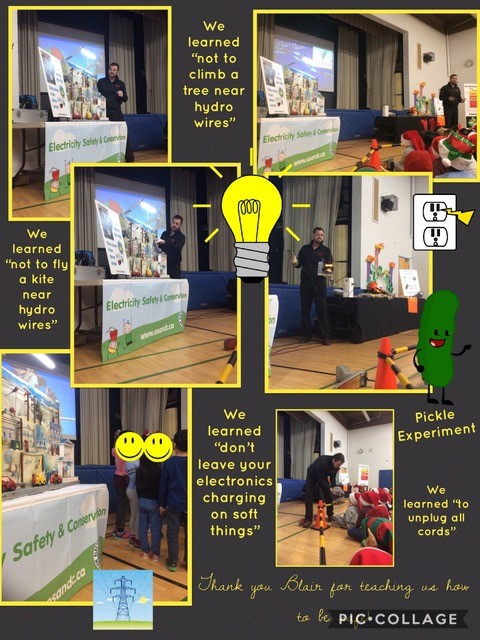 Please click here to download a pdf of school reviews of the ES and C presentation from Milton Hydro area.
Please click here to download a pdf of school reviews of the ES and C presentation from New Market Hydro area.
Please click here to download a pdf of school reviews of the ES and C presentation from Veridian Corporation area.
---
"I wanted to send you both a quick email and let you know that my kids LOVED the presentation! Riley is STILL talking about it. She insisted on showing me how to check all our GFI outlets ("mommy, I know you already know how, but let me show you that I know how. AND we have to do this once a month, did you know that??" – I actually didn't know that so she taught me something). She has shared tons of the safety information and it just makes me so happy because if she's excited to talk about it, then it's something that will stick with her.
Blair you clearly know how to capture an audience! Thank you so much!"
Dawn Jackson