Well, it's been awhile but were still here, busy sharing the safety message. Since our last post our presenters have been to Ajax, Aurora, Beamsville, Belleville, Bowmanville, Bradford, Brantford, Burlington, Casselman, Clinton, Cornwall, Fonthill, Gloucester, Hamilton, Hanover, Kanata, Long Sault, Maple, Markham, Milton, Mississauga, Nepean, Newmarket, Niagara Falls, Orleans, Orono, Penetanguishene, Pickering, Port Colborne, Port Hope, Richmond Hill, Stittsville, Thornhill, Vaughan and Woodbridge. WOW, talk about putting miles on. Thankfully the guys love what they do everyday.
We were recently able to celebrate the holidays with the whole team over a delicious dinner and yummy drinks. A huge thank you to Sandra and Mike for continuing to treat us all so well. Since our presenter work primarily on their own, our annual Christmas dinner is always a really nice time for the for the team to get together and reflect on the past year. This one was a big one for us as we added two new members to our group, Denis and Ryan.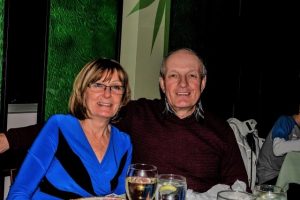 To make sure that everyone has a safe holiday season we have some tips to keep in mind and practice at home:
1. Never connect more than three strings of incandescent lights. 
Weather you're hanging them on the tree on around your house for decorations, more than three strands may not only blow a fuse, but can also cause a fire.
2. Keep trees fresh by watering daily.
Dry trees are a serious fire hazard. If you have school aged children this is a perfect job for their little bodies to crawl under the tree to water it.
3. Check decorations for certification label.
Decorations not bearing a label from an independent testing laboratory such as Underwriters Laboratories (UL), Canadian Standards Association (CSA), or Intertek (ETL) have not been tested for safety and could be hazardous.
4. Inspect electrical decorations for damage before use. 
Cracked or damaged sockets, loose or bare wires, and loose connections may cause a serious shock or start a fire.
5. Protect cords from damage. 
To avoid shock or fire hazards, cords should never be pinched by furniture, forced into small spaces such as doors and windows, placed under rugs, located near heat sources, or attached by nails or staples.
6. Do not overload electrical outlets. 
Overloaded electrical outlets and faulty wires are a common cause of holiday fires. Avoid overloading outlets and plug only one high-wattage into each outlet at a time.
7. Turn off, unplug, and extinguish all decorations when going to sleep or leaving the house. 
Unattended candles are the cause of one in five home candle fires.
8. Use battery-operated candles. 
This way you won't have to worry about little fingers touching them or dog tails knocking them over. It's still important to turn them off when you go to bed or leave the house but they are a safer option.